S1E17 - Pancake Eating MFer
Cars and sports and sports and cars
6 months ago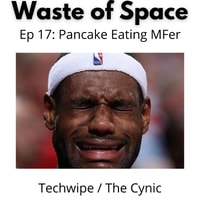 http://wasteofspacepodcast.com
Why do vehicles cost so much?
What's your favorite sports movie?
Listen in as the duo talk about buying a vehicle, who makes the best sports calls, and why is Lebron a bitch?
Leave us a voicemail and we'll play it on the show. (727) 416-0613
Email us and we'll read it. [email protected]
All music by Techwipe. Find it on Spotify and all streaming services.