S1E25 - Ru-Bi-Ohhh!
Wake up, it's election day!
4 months ago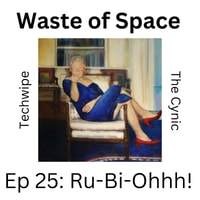 http://wasteofspacepodcast.com
Do you hang awards up on the walls of your home?
It's election day, let's listen to bad ads!
Leave us a voicemail and we'll play it on the show. (727) 416-0613
Email us and we'll read it. [email protected] / [email protected]
All music by Techwipe. Find it on Spotify and all streaming services.