S1E13 - Painful Experience
We're back from some soul searching.
4 months ago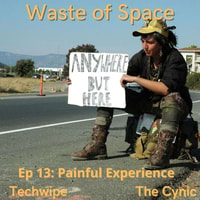 http://wasteofspacepodcast.com
Welcome back to the worst podcast in the universe featuring two morons that bitch about stuff. Since this is our first show back it's not super coherent, but it's nice to get on the mic again regardless. We touch on the shitty Big Easy, some baseball trade news, some Pelosi news, and green necklace rings around non showering people.
Leave us a voicemail and we'll play it on the show. (727) 416-0613
Email us and we'll read it. [email protected]
All music by Techwipe. Find it on Spotify and all streaming services.