S1E24 - Turkey Vulture Travesty
Worst....show......ever
4 months ago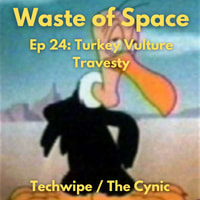 http://wasteofspacepodcast.com
We're back after two bye weeks only to find our show has sucked.
The Cynic discovers geography.
Techwipe can't sleep.
Leave us a voicemail and we'll play it on the show. (727) 416-0613
Email us and we'll read it. [email protected] / [email protected]
All music by Techwipe. Find it on Spotify and all streaming services.