S1E22 - White Trash Chili
First, you take the chicken.........
5 months ago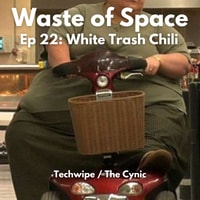 http://wasteofspacepodcast.com
How to make a good chicken chili, let us describe the steps. This week we talk old memories, food, and celebrity deaths. Deflection is a word that comes to mind.
Leave us a voicemail and we'll play it on the show. (727) 416-0613
Email us and we'll read it. [email protected]
All music by Techwipe. Find it on Spotify and all streaming services.