S1E16 - Gainful Employment
Antiwork indeed
7 months ago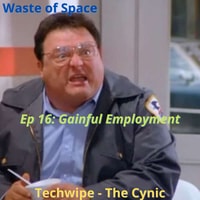 http://wasteofspacepodcast.com
Waste of Space wants to know what your worst job was?
Listen in as the duo tell old stories of employment past. Kids just don't know what they got these days.
Leave us a voicemail and we'll play it on the show. (727) 416-0613
Email us and we'll read it. [email protected]
All music by Techwipe. Find it on Spotify and all streaming services.