S1E15 - Dose of Humanity
Get off our lawns....again!
1 month ago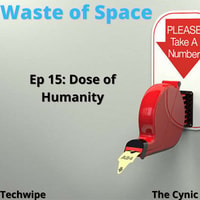 http://wasteofspacepodcast.com
This week the dumbass duo bore you to death with their trips to the DMV, idiotic meme challenges, and what the hell is Patton's first name?
Leave us a voicemail and we'll play it on the show. (727) 416-0613
Email us and we'll read it. [email protected]
All music by Techwipe. Find it on Spotify and all streaming services.